Leaving Their Scottish Homes:

What Were They Thinking?

BIFHSGO's Virtual Annual Conference

It's a wrap!
It appears to have been a success...
Thank you for a fabulous conference!! Wow! Can't wait to see the handout and re-watch some of the talks as the speakers went so FAST since they had so much wonderful information to deliver... I'm so glad I found out about your website and association.

… the conference this weekend was excellent, filled with very helpful information and opportunities to talk directly with participants. Thank you for all your work.
The conference was fantastic! All meat, no fluff. Kudos to the entire team.
And it's time to thank all those who contributed to that success!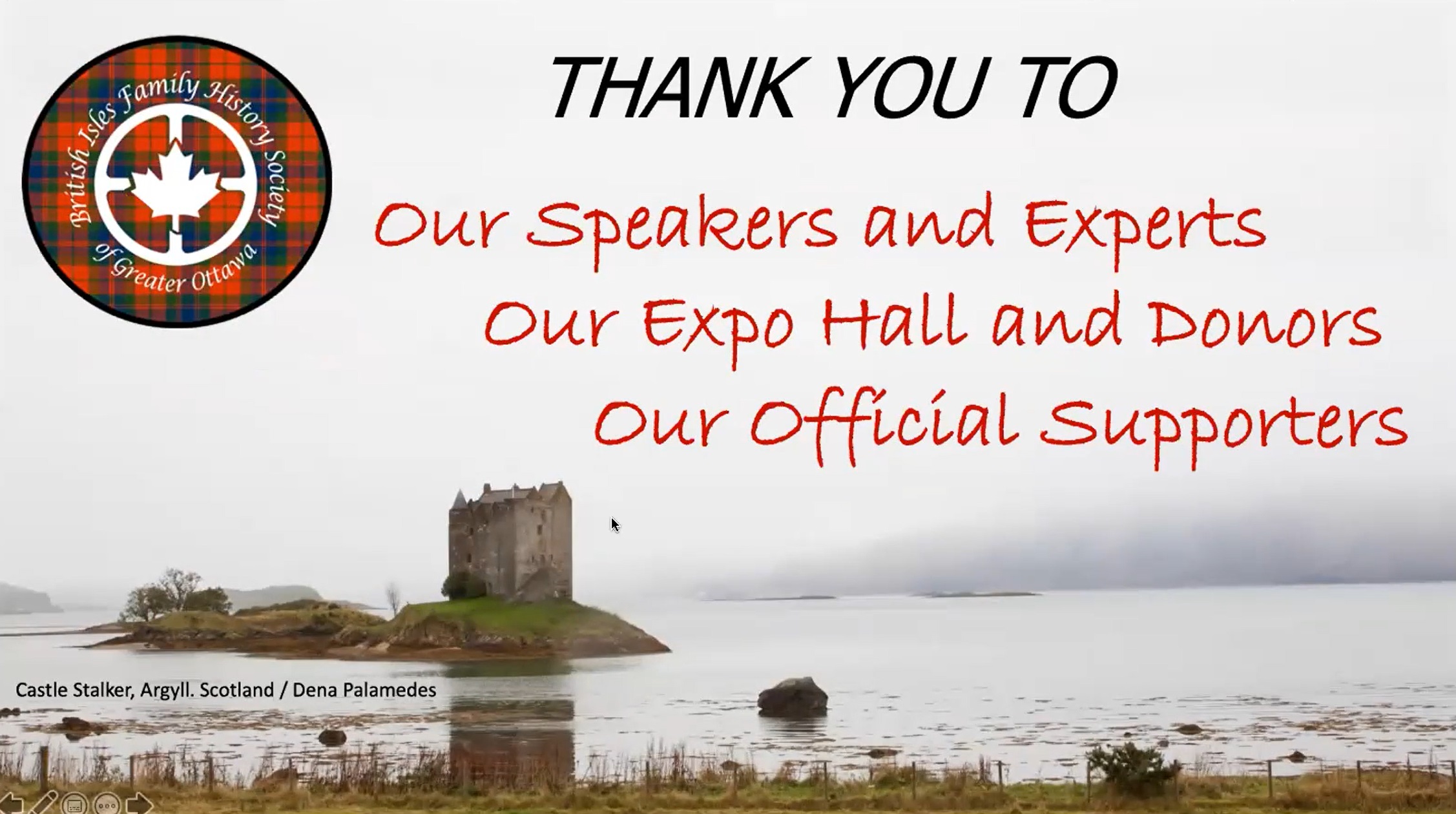 Videos of the presentations and resources are available now to conference registrants. Recordings of the Conference Connect with Scottish Regions discussions and resources are also available. All these resources will be available until 30 November. There's still time to sign up for the conference and see those great presentations!
A survey has been sent to all conference registrants. Please fill it out as soon as possible—the feedback is important to us.
Door prizes and Expo Hall

There were 28 lucky winners of door prizes donated by our very generous donors. See the Door Prizes & Discount page for details. You can also still visit the Expo Hall for links to family history, genealogical and historical societies, vendors of genealogical services and products, family history bloggers, and archives and museums—one or more may help with your Scottish research.
Ever wondered why your ancestors left their homes in Scotland? BIFHSGO's 3rd virtual conference presented six key speakers on this topic. See the full program.

Marjory Harper (keynote speaker)

Professor of History, The University of Aberdeen and Visiting Professor, The Centre for History, The University of the Highlands and Islands / "Two Centuries of Adventure and Exile: Voices from Scottish emigration"
Preview


Chris Fleet

Curator of Maps, National Library of Scotland / "Getting the Best out of the NLS Maps Website"


Michelle Leonard

Scottish professional genealogist / "Combining DNA and Traditional Research: Scottish case studies"




Robin Baird Lewis

Illustrator/designer and former scholar / "My Dear Brother: Alexander Carlyle—A Study of Scottish Emigration to Upper Canada"


Kirsty F. Wilkinson

Professional genealogist & research manager with

AncestryProGenealogists

/ "Sources in Scotland for Tracing Scottish Emigrants"




Chris Paton

Genealogist, family historian and author / "Tracing Irish Ancestors in Scotland"

Information for registrants is on the Registrants' Portal. When are registered you can access the portal with the username (email) and password for your BIFHSGO account or the password you create when purchasing your pass.
BIFHSGO wishes to thank members who provided pictures for the conference webpages—Dianne Brydon, Sheila Dohoo Faure, Dena Palamedes and Brenda Turner.